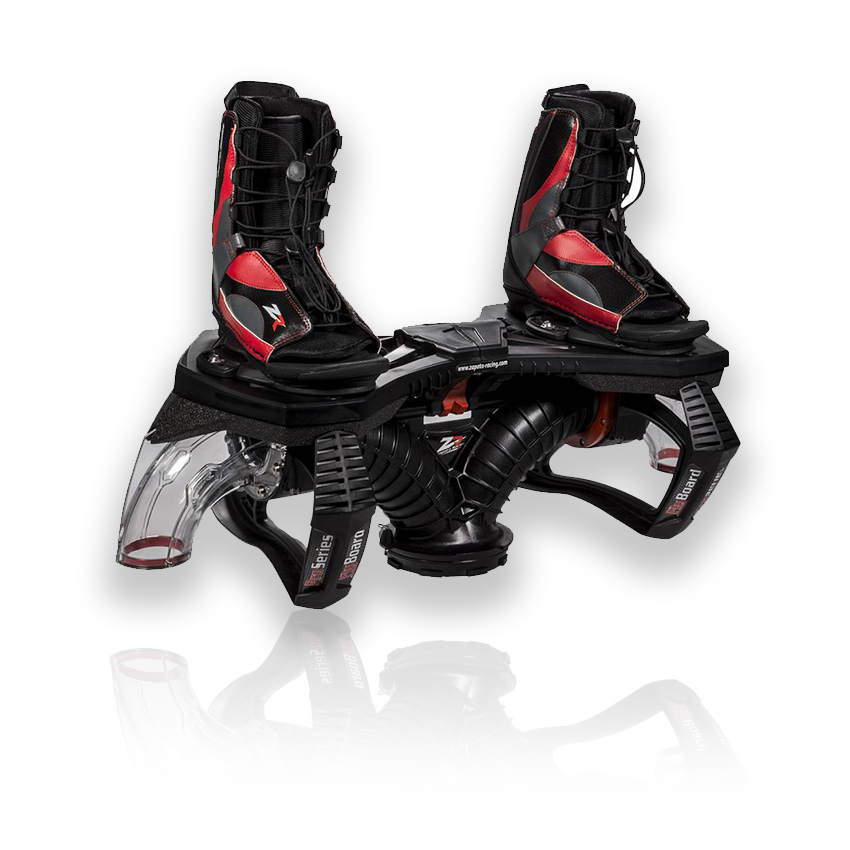 For the easiest riders
Flyboard® is a board connected to a PWC turbine allowing you to rise into the air, dive and jump out of the water while performing various freestyle figures. While managing the PWC throttle, the user can fly up to 12 meters over the water surface (with a height varying according to the PWC power and hose).
Learning it, is very easy and intuitive as long as you find your balance and it takes between 2 to 20 minutes with an instructor and up to 1 hour on your own.
So try it out and feel the heat!
---
Rental Price : 240 € / day
Assembly & Training included
Jet Ski & instructor not included
VAT and Delivery / Re-delivery not included
---
FlyBoard History
The FlyBoard was developed by ZAPATA RACING, who started the development of the FlyBoard early spring 2011. Zapata Racing is heavily experienced in building custom racing jet skis such as the FZ950 and the MZR V8.
After several FlyBoard prototypes the Flyboard finally succeeded getting out of the water and stabilizing in the air thanks to the under feet propulsion and hand stabilization, after improving the Fly Boards flight intuition the FlyBoard was patented in the INPI and first introduced to the world during the World jet ski Championship in China. The Flyboards first video on Youtube had more than 2.5 million views in just 15 days and was broadcasted worldwide on various TV programs.
Flyboard kit includes :
1 pair of bindings
1 rotation system equipped with specific bearings
1 supply hose (different types/lengths of hose available)
1 U pipe which reverses the PWC water outlet
1 fast clip interface
Innovations
Turbine interface equipped with a Venturi (system allowing a water evacuation while using the Flyboard®)
U pipe equipped with a propulsion system. The PWC is no longer towed but propelled to increase speed, very efficient with Hoverboard by ZR®, especially at long distances.
Bindings exclusively developed for Flyboard® practice. Offering an optimal protection of the foot and the ankle during the practice, they are more flexible and strengthened in the front, back and at the sides of the shoe.